Merced Vernal Pools and Grassland Reserve Symposium
Please join us as we celebrate and hear about some of the cutting edge research that is being conducted on the Reserve! 
SCHEDULE
Half Dome-Crescent Arch Room (Housing Area) 
 8:30am                     Refreshments:  Coffee and pastries
 8:50am                     Introduction
 9:00-9:20am             Diet analysis of American kestrels (Falco sparverius) breeding on the Merced Vernal Pools and Grassland Reserve—Joy Stewart, Ecologist, Applied Technology & Science
 9:20-9:40am            Hydrologic monitoring and modeling for management and restoration analysis at Avocet Pond—Anna Fryoff-Hung, Master's student, UC Merced
9:40-10:00am           Monitoring soil moisture from unmanned aerial vehicles:  Surface soil moisture retrieval using machine learning and multi-spectral images—Samuel Araya, PhD candidate, UC Merced
10:00-10:20am         Using environmental DNA to monitor for listed vernal pools fairy shrimp in California—Shannon Kieran, PhD candidate, UC Davis
10:20-10:35am         Break
10:35-10:55              The secret life of vernal pool soils: plant genetic diversity above and below ground—Molly Stephens, Assistant Project Scientist, and Dannise Ruiz-Ramos, Postdoctoral Researcher, UC Merced
10:55-11:05              Soil effects on an endemic vernal pool annual plant, Limnanthes douglasii ssp. rosea (Meadowfoam)—Daniel Toews, PhD student, UC Merced
11:05-11:35am         Conservation genomics of endangered California tiger salamanders—Brad Shaffer, Distinguished Professor, UC Los Angeles
11:35-12:30pm        Lunch
Please also join us as we head over to enjoy the Environmental Systems seminar:
Student Services Building (SSB) 170
12:30-2:00pm           Connecting the dots: Hydrological connectivity between vernal pools and downgradient waters—Mark Rains, Associate Professor, University of South Florida
PARKING
On the UC Merced campus, visitors can park in any non-specially marked space in the Bellevue Lot. Please arrive early to allow yourself enough time to find a parking spot.  Hourly parking permits can be purchased at kiosks in the parking lot.  Kiosks accept VISA, MasterCard, AMEX, and Discover cards only.  For more information, please see UC Merced's Transportation and Parking Services website (http://taps.ucmerced.edu/parking-permits/visitors).  From the parking lot, take the temporary pedestrian path to campus. Plan on a 7-minute walk from the parking lot to the Half Dome Building. 
UC MERCED CAMPUS MAP
RSVP:  Please RSVP by Wednesday, March 14 at: https://www.eventbrite.com/e/merced-vernal-pools-and-grassland-reserve-s...
Please see the attached flyer for a schedule and a list of all our speakers. 
SPONSORS: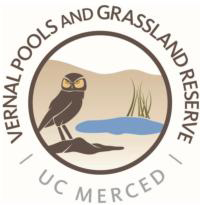 Date
March 21, 2018 -

8:30am

to

2:00pm